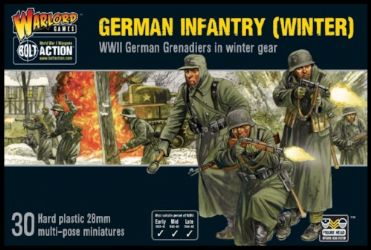 German Infantry (Winter) Plastic Box Set
£
25.08
RRP: £29.50
(you save £4.42)
---
Description
This box contains enough parts to create 30 plastic Infantry.
These figures are ideal to represent German Infantry, Heer or Waffen SS, facing their enemy in cold weather or the very depths of winter.
The options in this kit allow models to be made for all periods of WW2.
Information
Box set.
Manufacturer: Warlord Games
Part Number: 402012027
Approximate Weight: 300g
---