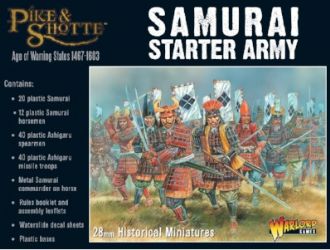 Pike & Shotte: Samurai Starter Army
£
63.75
RRP: £75.00
(you save £11.25)
---
Description
Boxed set containing 113 plastic and metal miniatures
An exceptional value boxed set containing enough miniatures to build a great army.
40 x Ashigaru Spearmen, 40 x Ashigaru Missile Troops, 20 x Samurai, 12 x Samurai Horsemen plus mounted Commander
Also contains a 12 page booklet - &apostrophe;Armies of the Daimyos", 6 decal sheets and 4 assembly leaflets.
Information
Box set.
Manufacturer: Warlord Games
Part Number: 202014001
Approximate Weight: 1400g
---