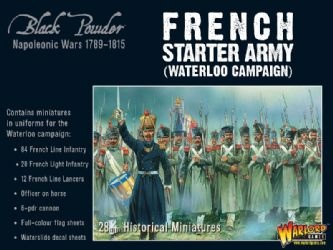 Napoleonic French Starter Army (Waterloo Campaign)
£
85.85
RRP: £101.00
(you save £15.15)
---
Description
Boxed set containing over 125 plastic and metal miniatures.
In this box is enough troops to start a French army for the Waterloo campaign
84 French line infantry and 28 French light infantry.
12 French Line Lancers, a mounted officer and 6 pounder cannon with crew.
he box also contains full colour flag sheets.
Information
Box set.
Manufacturer: Warlord Games
Part Number: 309912005
Approximate Weight: 900g
---