Best Sellers
Tau Empire Commander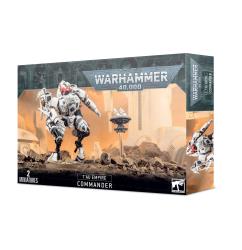 This multi-part plastic kit gives you everything you need in order to build one Tau Commander, in either an XV-85 Enforcer Armour Crisis Battlesuit or an XV86 Coldstar Battlesuit. There's an immense number of options available in the box - different heads, engines, leg and arm assemblies - and a ton of weapons! An airburst frag projector, a plasma rifle, a flamer, a fusion blaster, a cyclic ion blaster, a burst cannon (plus upgrade kit) and a missile pod. Included is a drone, which can be assembled as a gun, shield or marker drone.
Seventy-seven components are included, and one Citadel 60mm Round base.

More details ...
---
Tau Empire
Contains background, origins and datasheets with rules and point values for each T'au Empire miniatures

More details ...
---
Start Collecting! Tau Empire
Contains:
1x Tau Ethreal
1x Fire Warrior Strike Team
1x XV8 Crisis Battlesuit Team
Saving approx 46% off the individual GW RRP.
Tau Ethreal only available previously in the Burning Dawn boxed set

More details ...
---
Tau Crisis XV8 Crisis Battlesuits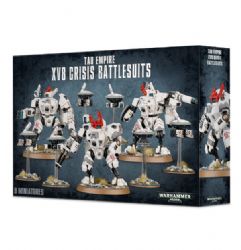 This multi-part plastic kit contains everything needed to build three XV8 Crisis Battlesuits, with six accompanying drones. There's an impressive level of customisation available, with ball fittings allowing unprecedented posability. One miniature can be optionally assembled as a Shas'vre, with special head and chest plate, and there's a prodigious amount of advanced Tau weaponry in the box: four plasma rifles, three flamers, four fusion blasters, four burst cannons, three missile pods and three shield generators. The six accompanying drones can each be built as gun, shield or marker variants and an assortment of battlesuit electronics systems are included. One model in the kit can even be built as the new, experimental Iridium-class XV8-02 Crisis Battlesuit - distinguishable by its thicker armour and aggressive appearance. Huge variety!
152 components are included in total, with three Citadel 50mm Round bases and three Citadel small Flying bases.

More details ...
---
XV88 Broadside Battlesuit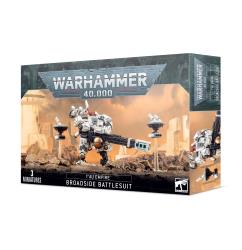 With robust armouring, manoeuvrability and a stack of weapons within the box, the XV88 Broadside Battlesuit provides the Tau collector with a number of options. The kit brings a fresh twist to the line of Tau battlesuits - they're noticeably denser models with a great presence in a collection of miniatures. Each one features a particle accelerator on the back. The standard weapon is for the long and immensely powerful-looking twin-linked rail rifle, though they can be outfitted with eye-wateringly potent and somewhat fist-like twin-linked high yield missile system pods. If that wasn't enough, then you can also use the twin-linked smart missile - enough to please any Tau weapons connoisseur. The kit comes with a Shield Drone and Missile Drone.
This multi-part plastic kit contains 91 components and a Tau transfer sheet with which to make a Broadside Battlesuit and two Drones.

More details ...
---