---
Best Sellers
Space Marine Devastator Squad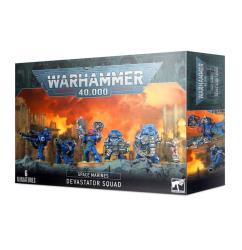 This multi-part plastic kit contains everything you need to build five Space Marine Devastators, one of which can be optionally assembled as a Space Marine Devastator Sergeant, with three Sergeant heads included. The poses these models can be assembled in are classic Devastator poses, with targeter helmets and castellated greaves designed to counter the immense recoil thrown out by their heavy weapons.
Speaking of heavy weapons, the Devastator squad features an *incredible* array of the Imperium's finest. Included in this squad:
Two Space Marine Grav-Cannon and Back Pack Assemblies;
Two Space Marine Missile Launcher and Back Pack Assemblies;
Two Space Marine Multi Melta and Back Pack Assemblies;
Two Space Marine Lascannon and Back Pack Assemblies;
Two Space Marine Plasma Cannon and Assemblies;
Two Space Marine Heavy Bolter and Back Pack Assemblies;
One each of Combi Plasma, Combi Melta, Combi Grav, Combi Flamer, Bolter and Storm Bolter;
One each of Power Fist, Power Sword, Power Axe, Lightning Claw, Chainsword and Thunder Hammer;
One each of Plasma pistol, Bolt pistol, Grav pistol.
Five Purity Seals, two Servo Skulls, a pile of spent shells, a skull base piece, ten Space Marine targeting helmets, six sets of legs, six Sergeant hands and eight Space Marine shoulder pads round out this immense collection of components.
Also supplied are five 32mm Citadel Round Bases.

More details ...
---
Space Marine Drop Pod
More details ...
---
Codex : Space Marines (2017)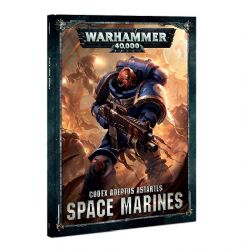 • A 208 hardback rulebook - the definitive Codex for Space Marine collectors.
• Includes background, history, full heraldry and colour schemes,
• Full rules and point values for Space Marines and Primaris Space Marines, including 85 datasheets, Battle Forged armies, Detachments, Chapter Tactics, Stratagems, Warlord Traits and much more.
Guides to the White Scars, Imperial Fists, Crimson Fists, Black Templars, Salamanders, Raven Guard and Iron Hands Chapters.

More details ...
---
Space Marines Assault Terminators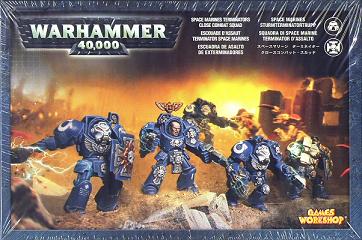 The box set contains enough components for 5 Terminators and includes parts for a Sergeant and the choice of either Lightning Claws or Thunder Hammer and Storm Shield for each Terminator.

More details ...
---
Space Marine Razorback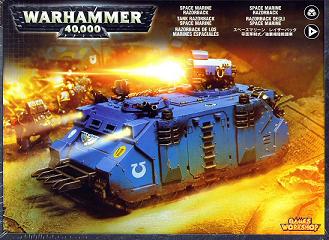 More details ...
---