---
Best Sellers
Britannia – Hail Caesar supplement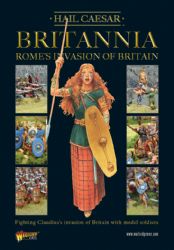 A copy of the Hail Caesar rulebook is required to use this supplement.

More details ...
---
Ancient British Warriors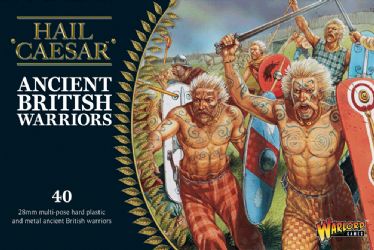 This boxed set contains enough plastic and metal parts to make 40 Ancient British Warriors. With several variants of limed hair and distinctive helmets (such as the 'Waterloo' helmet) plus new metal shields such as the Battersea-style shield they cut an impressive and rather worrying-looking bunch!
The boxes set also contains a metal upper torso to allow to you to include a British Chieftain as well as new carynx and standards.
So, whether you are starting a new British army or merely looking to add more character to an existing Celt army these chaps shouldn't be overlooked!
Also contains superb, full-colour, self-adhesive (not waterslide!) shield transfers to bring your models to life!

More details ...
---
Caesarian Roman Starter Army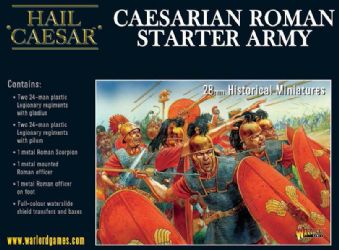 Boxed set containing plas4c and metal miniatures
• Contains 96 plastic romans, with gladius or pilum
• Two officers, on mounted, one on foot
• A metal scorpion
• The ideal way to start to build your own Roman army

More details ...
---
Germania, Hail Caesar supplement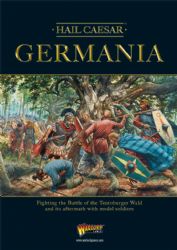 This 56-page sourcebook, written by Neil Smith, chronicles the devastating blow suffered by the Romans in the Teutoberger Wald at the hands of the Germanic tribes led by Arminius. The battle, also known by the Romans as the Varian Disaster, saw the Germans ambush and destroy three Roman legions and their supporting troops. The book covers both the battle and the aftermath - a period that was something of a watershed for Rome's ambitions in Germany...
Germania also covers the varying tribes that made up the Germanic forces as well as scenarios and special rules.

More details ...
---
Hail Caesar Army Lists - Volume 1: Biblical & Classical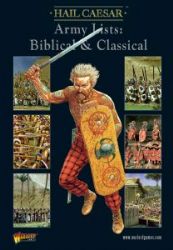 In this, our first expansion for Hail Caesar, Rick presents no less than 63 army lists for the Biblical and Classical periods along with points costs and army composition. It is also replete with the imgaes of fantastic armies that you can expect from a Warlord Games book.
The armies covered are: -
Biblical
Old and Middle Kingdom Egypt, Nubian, Akkad and Sumer, Early Arab Raiders, Amorite Babylonia, Canaanites, Hittites, Mitanni, Mycenean and Minoan, New Kingdom Egyptian, Early Assyrian, North European Bronze age, Libyan, Sea Peoples, Israel and Judeah, Assyrian Empire, Neo-Babylonian, Urartu
Classical
Scythian, Saite Egyptian, Lydian, Kyrenean Greek, Early Achaemenid Persian, Early Carthaginian, Hoplite Greek, Thracian, Samnites, Later Hoplite Greek army, Pauravan and Mauryan Indians, Syracusian, Camillan Rome, Gauls, Illyrian, Later Achaemenid Persian, Alexandrian Macedonian, Qin China, Alexander's Successors, Hellenistic Greek, Bactrian Grek, Carthaginian, Galatians, Parthians, Republican Rome, Numidian, Merotic Kushite, Spanish, Late Macedonian, Seleucid, Ptolemaic, Han China, Pyrrhic, Celtiberian, Early German, Maccabean Jewish, Sarmatians, Artaxiad Armenian, Ancient Britons, Mithandric Pontic, Dacian, Marian Roman, Imperial Roman, Jewish Revolt, Kushan,

More details ...
---