Best Sellers
Blood Bowl - Skaven Scramblers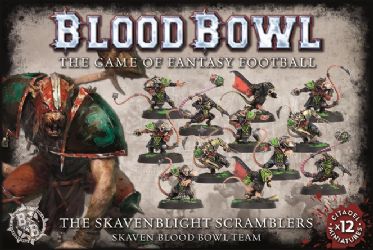 This box contains twelve Skaven team members, warpstone balls and Skaven specific counters. The miniatures are snap fit and made out of grey plastic. The box also contains an assembly guide and decals and an out of the box team roster.
Rules for using this team can be found in Deathzone Season 1 book

More details ...
---
Blood Bowl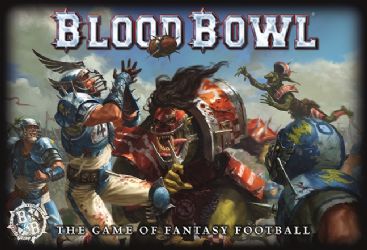 The Blood Bowl box comes with everything you need to start playing Blood Bowl.
All miniatures are made out of coloured plastic and can just be snapped together, so even customers who do not play Games Workshop games can pick up a copy, snap it together and start playing!
The box contains…
Two teams with:
12 humans players (2x BlItzers, 2x Throwers, 2x Catchers and 6x Linemen, plus balls an counters)
12 Orc players (2x Black Orc Blockers, 2x Blitzers, 2x Throwers, 6 Linemen, plus balls and counters)
A 56-page rulebook
A double-sided fold-out card pitch (one human pitch and one Orc pitch) Two sets of special Blood Bowl dice (one blue set for humans and one green set for Orcs)
Various plastic templates such as a range ruler, scatter template and a throwing template
A card deck containing Special Play cards, four Star Player card and player reference cards
Decal sheet, containing number as well as human and orc symbols Two sides rules reference sheets

More details ...
---
Blood Bowl - Reikland Reavers (Humans)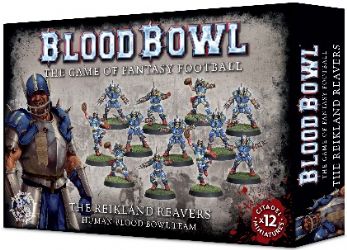 Contains 10 plastic miniatures.

More details ...
---
Blood Bowl: Dwarf Giants Team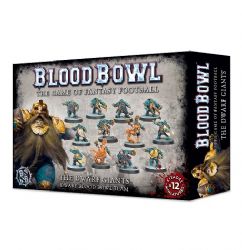 This multi-part box contains 12 miniatures – 2 Troll Slayers, 2 Blitzers, 2 Runners and 6 Linemen. The box comes with alternative heads for the Troll Slayer and Blitzer, 3 Dwarf balls, a double sides score coin, a turn counter, decal sheet and 1.000.000 GP roster.
Full rules for this team can be found in Deathzone Season 1, so do ensure you have sufficient Deathzone books in stock, to sell along this new team

More details ...
---
Blood Bowl - Ogre
This multi-part kit contains the components to build a Blood Bowl Ogre. The box comes supplied with a 32mm Blood Bowl round base, featuring a hole to slot the ball into when the miniature has possession

More details ...
---